A Custom Sized Australian Solar Pool Cover Delivered at an Unbeatable Price.
A Custom Sized Australian Solar Pool Cover Delivered at an Unbeatable Price

Fast & Free Aerial Pool Measure

Sizing and Shape to Match Your Pool

Fast Custom Preparation & Dispatch

Huge Savings Over Pool Shop Prices

Real Warranties - Up to 12 Years
A Custom Sized Australian Solar Pool Cover Delivered at an Unbeatable Price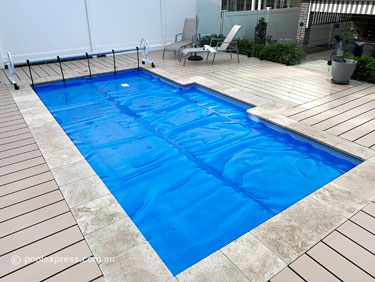 600 Micron Light Blue – Endurance Roller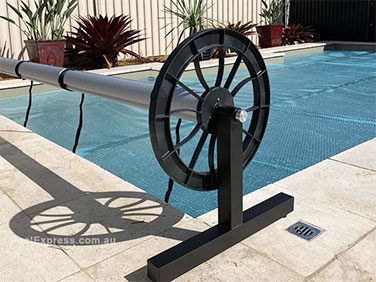 550 Micron Clarity Clear – Apollo roller
Joanna Orr
18 Aug, 23 - Reservoir, VIC
"Pool Express have the best service, price and quality products. They measured my pool by satillite. I was way off and would have purchased the wrong size otherwise. Many Thanks :) Shipped very quickly also! Highly recommend "
Michelle Lee
5 Aug, 23 - Windaroo, QLD
"Great Quality Pool Liner. And they were $350 cheaper than our local supplier. Fantastic Customer service, highly recommend! Thank you again :) 😆"
Deen Yansaneh
14 Aug, 23 - Malaga, WA
We purchased a new pool cover and are very happy with the price and qualiy. Installation wasn't too difficult for us and we got the job done. Excellent customer service. I highly recommend Pool Express
Philip Holden
11 Aug, 23 - Camp Hill, QLD
So great, so easy and so reliable service JUST OVER THE PHONE! Highly recommended!! Many many thanks Sarah for your expert and patience in helping us choosing the right pool cover! 👍🏆
Amanda Aldridge
2 Aug, 23 - Strathmore, VIC
"Quick delivery and easy to set up. The roller works really well and needs less effort to use than I expected. Looking forward to next summer. Highly reccomend. thanks"
Lauren Ewen
27 Jul, 23 - Ocean Reef, WA
No hesitation in recommending. Delivery was prompt. Product arrived as described. Sarah was helpful in double checking pool cover size using a satellite perspective. Price was more competitive than other suppliers.
Ian Stephens
23 Jul, 23 - Caringbah, NSW
Good service. Very helpful and punctual staff. We had lots of questions and and Kristie patiently answered everthing. Made the purchase much less stressful. Highly recommend. 🏆
Bob Spratt
19 Jul, 23 - Rostrevor, SA
Very helpful staff, gave good advice on options, price was competitive and delivery was on day quoted. They measured my pool from the air and got the sizing just right. Great job!
Melinda Asbury
16 Jul, 23 - Stoneyfell, SA
Very happy with the pool cover ordered from Pool Express. It arrived quickly, was great quality and service was excellent. Thanks guys at Pool Express. Would Highly recommend. 🙂🙂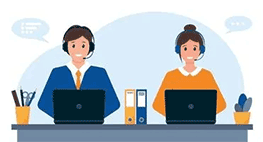 Outstanding Advice & After Sales
Our customer support is second to none – users rave about how we don't rest until every issue is solved to their satisfaction…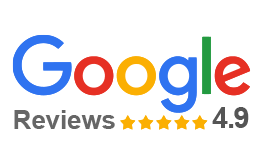 Highest Customer Satisfaction
We currently boast an industry leading client review rating of 4.9 with Google. Clients most appreciate our speed and pre sales advice.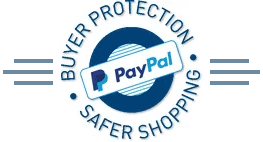 Secure & Safe Online Shopping
Clients receive a unique transaction ID directly from Pay Pal (even if paying by credit card). Don't receive the goods? Refunds are simple.

Fast

Free

Aerial Pool Measure Service - We Will Recommend

Cover Sizing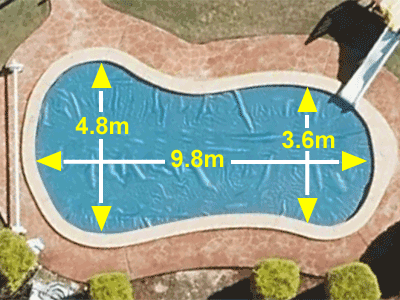 A Fast and Free Service
Complete in Only 2 Hours
We can recommend cover sizing and shape, based on high-resolution images (already taken regularly from aircraft).
Over 95% of Australian homes have been imaged. We can measure within an accuracy of 5-10cm.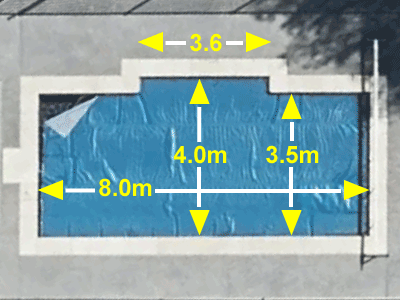 Submit details below to get our sizing assessment and discount pricing within 2hrs
| Key Issues for Pool Owners | Floating Solar Covers | Tie-Down Mesh Covers |
| --- | --- | --- |
| Keeping Out Leaves / Debris | 50-75% | 100% |
| Time To Remove / Put Back | 2 & 2 minutes | 5 & 15 minutes |
| Reduces Maintenance Work | Yes | Maximum |
| Evaporation Reduction | 98% | 50% |
| Summer Water Temp | Increases 6-8oC | Increases 3-4oC |
| Added Safety | Marginal | Considerable |
| Compatible with a roller | 100% | If required |
| Australian Quality | ? Depends on what and where you buy | 100% |
🟡  Worth Noting – One cover type does not replace the other. They offer different benefits at different times of the year. Most clients who purchase a tie-down cover also have a floating cover.  The tie down cover is used for longer periods outside the swimming season..