Impeccable Cleaning: Power and intelligence work together. Great suction power thanks to its CyclonX Technology ensures no suction loss and the capability of capturing all sort of debris and leaves. Its sophisticated intelligence ensures efficient pool coverage.
Prevents Algae & Bacteria: Its powerful brushing helps prevent germination of algae and bacteria and reduces the need for using chemicals
Floor, Wall & Waterline: Thoroughly cleans and scrubs the pool floor, walls and waterline in all pool shapes. Its high grip tracks are built to climb walls in Australian pools. 
Easy to Use: Fully plug and play. With the inclusion of Zodiac's e-Box a simple touch of a button is all that it's needed to operate it.
Hygienic: Never touch debris again. Its filter canister has been designed to be easily accessed and cleaned with minimum fuss and without having to touch the contents.
Save on Electricity: As it uses its own power source and filtration mechanism it does not use, drain nor clog your pool filtration system which in combination with its intelligent algorithms and energy-efficient design drastically minimizes energy use.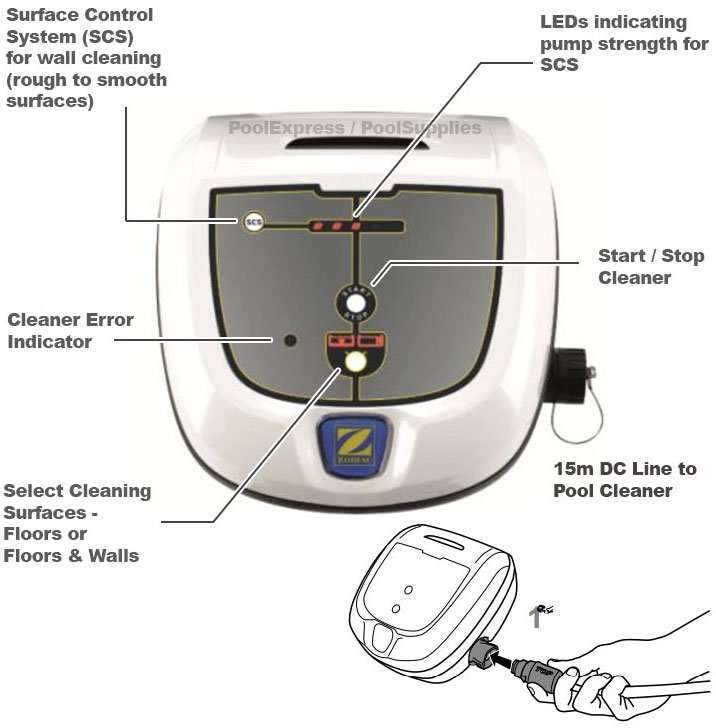 eBox: The eBox control panel comes equipped with floor and wall settings for optimum cleaning.
Cyclonic Suction: Powerful cyclonic suction technology for optimum and consistent efficiency with no loss of suction power.
No loss of suction power: Captures large debris such as leaves and gum nuts while ensuring constant suction power throughout the cleaning cycle.
Push 'N' Go: Easy and hygienic access to filter canister. Simply press the push 'N' Go button to release the filter canister and easily empty debris.
Surface Control System (SCS): The e-Box comes equipped with a Surface Control System which lets you adjust the settings for wall cleaning on rough to smooth surfaces. The LED lights on the eBox illuminate to indicate pump strength.
Certified to Australian safety standards
What's In the Box:
Robotic cleaner with a 15m cable and a 200-micron filter canister
e-Box control box
Quick start guide and warranty card